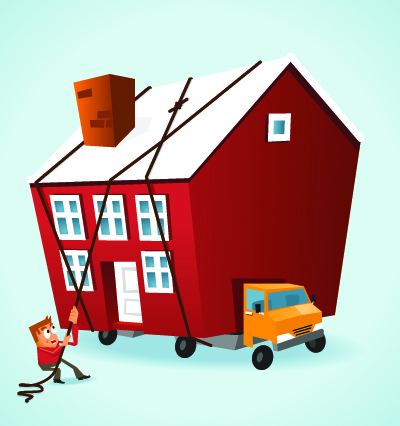 There's no doubt that daydreaming about your upcoming move to a new city on the other side of the country is exciting. Think of all the new things you'll get to experience - getting to know a new town, meeting new people and discovering what makes this new place special.
What's not so great? Thinking about all the planning that a cross-country move involves. If you're getting ready to jump from one side of the country to the other, here's what you need to do to prepare.
Start planning now
It's never too early to start planning. Moving long distance can be logistically complex, and getting a jumpstart is key to making sure the move goes as smoothly as possible. Ideally, you should begin planning at least eight weeks before your move date.
Lighten the load
Chances are, you've been holding on to things in your house that you don't really need or love anymore. Now is the time to go through all your belongings, and sell or donate what you don't want to take with you. Remember, the larger your moving load, the more expensive it will be. Consider what you can easily replace when you arrive at your new destination.
Arrange transport
How will you get your belongings from Point A to Point B? Will you hire a moving company? Will you be renting a truck and packing it yourself? Doing a combination of both? Do your research to find the most reputable companies and compare rates. Decide on your moving date and book your company or rental.
Create a to-do list
The weeks leading up to your big move are going to be busy and probably a little stressful (okay, maybe a lot stressful). Do yourself a favor and create a master to-do list of everything that needs to be accomplished by moving day. If you're moving with your family, share this list on Google Docs or another sharing platform and designate who will be responsible for each item.
Collect boxes and begin packing
Unless you're paying a moving company to pack your items, start collecting boxes as soon as possible and packing them up. Be sure to clearly mark the contents of boxes on the outside and fill them full. Pack heavy items in smaller boxes and save lighter items for the big boxes.
Set aside important documents and valuables
While you're packing, locate all your important documents and valuables and set them aside. You should carry these items separately with you, not in the moving truck with other items.
Cancel accounts and change address
A couple of weeks before the move, cancel local memberships and contact your utility companies for shut-off dates. Fill out a change of address form with the post office and alert employers, banks and other important places of your new address.
Stay calm
It's easier said than done, but do try to stay calm during the process. Be sure to allow for some time to decompress, either by doing something fun like watching a movie or taking a hot bath. Remember – it's likely to be stressful for a couple of weeks, but eventually the move will come to an end and you'll be happily exploring your new community!
Compliments of Virtual Results