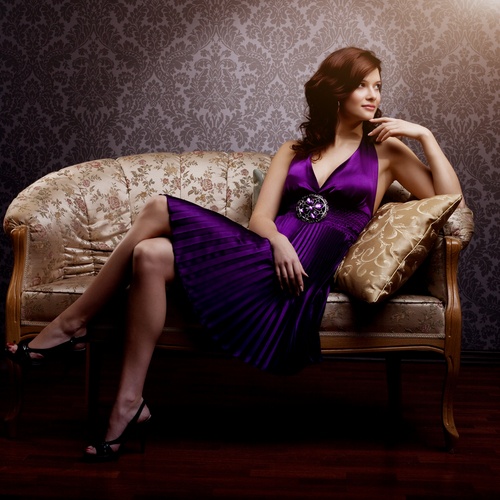 You don't have to be a billionaire to enjoy a little luxury. With some smart choices and a bit of imagination, you can live a champagne lifestyle on a beer budget. Here are some strategies to maximize the luxuriousness of your home and life while minimizing the amount of money you spend.
Focus on quality, not quantity
Living a minimal lifestyle has been popular in the media lately, whether it's following Marie Kondo's advice about tidying your home, or transforming your closet into a capsule wardrobe. What each of these concepts stresses is prioritizing quality over quantity. Instead of purchasing 12 trendy, discount home décor pieces that you kind of like, why not save that money and splurge on one quality, timeless piece that you really love and that you'll use for years?
Brighten a room with fresh flowers
Ever notice when you walk into a room that has a vase of fresh flowers, it just feels a little more special? There's no reason you can't have that feeling all the time. Fresh flowers can be very inexpensive – you can even gather some from your own yard. For an added bit of luxury, put them in a special pitcher or vase that you might normally only use on special occasions. There's no reason every day can't be a special occasion!
Buy vintage furniture
You can make your home look fabulous for far less money if you're willing to buy some of your furniture secondhand. Not only will you save, you'll likely get a higher quality item with unique character than if you spent the same amount of money in one of today's big box retailers. Check local thrift shops, online classifieds and yard sales to score some great deals.
Splurge on good sheets
One place in your home where luxury really counts is the bedroom. But instead of splurging on a fancy duvet or bedroom furniture, use your money to invest in a good set of sheets. There's nothing quite like slipping into bed every night wrapped up in luxurious fabric. And think of how much better you'll sleep and feel in the morning!
Use those fancy soaps and candles
If you're like many people, you've probably amassed a collection of fragrant soaps and candles during the years. And like most people, you're probably saving them for company or for a special occasion. But there's no reason to wait! Bust out those wonderful soaps and candles and use them around your house. You deserve it.
Take advantage of free local events
Communities across America host free events all the time. Have you ever actually attended any of them? There are so many fun activities to enjoy, from free outdoor movie nights at the park to the book club at the library. Search for free events in your area using Google and check the websites of your local library, parks and schools for fun activities happening in your area.
So there you have it! You don't have to be rolling in cash to enjoy a little luxury in your life. Try one of these tips and you'll be well on your way to living a more pampered and luxurious lifestyle!
Compliments of Virtual Results